Rochester Institute of Technology Leverages LenelS2 Solutions on Campus
OnGuard access control system, Blocked Person feature ensure only health protocol compliant students and faculty have campus access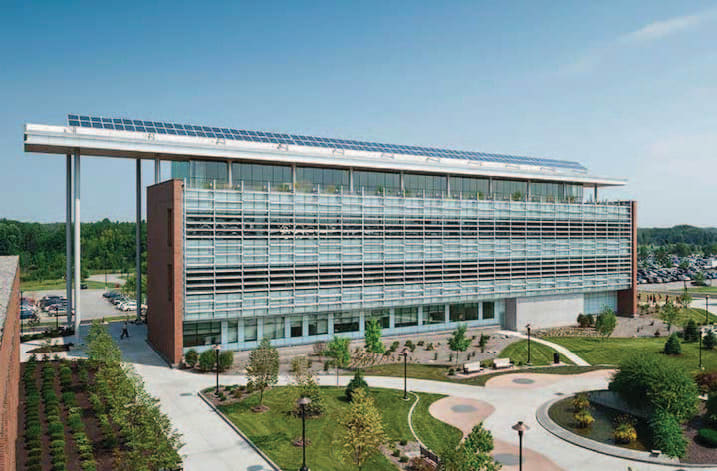 Challenge
Founded in 1829,
Rochester Institute of Technology
(RIT) is a diverse and collaborative private research university located in the town of Henrietta in the Rochester, New York metropolitan area. With over 19,000 students, RIT is an internationally renowned university in the areas of science, computers, engineering and other arts programs.
The COVID-19 pandemic made for a uniquely challenging 2020 at RIT, as it did at other educational institutions. Security has always been a priority, but RIT needed new ideas, technologies and solutions to help keep the campus healthy throughout the pandemic. "We wanted to help ensure that only students, faculty and staff who abided by the RIT Safety Plan and NY State Guidelines could access buildings on campus, while meeting the stringent, and frequently changing, state requirements that would allow us to remain open for business," explains Rod Lezette, Assistant Director, Technology and Communications, Public Safety.
Solution
RIT turned to longtime partner and value-added reseller (VAR), Technical Systems Group, Inc. (TSG), to find a solution that could quickly and easily be implemented with its existing LenelS2 OnGuard® access control system which manages over 2,200 card readers across campus and more than 30,000 cardholders. "In the spring of 2020 we learned about LenelS2's OnGuard Blocked Person feature for the OnGuard system as part of LenelS2's parent company Carrier's Healthy Buildings Program – from there we knew it could be used it to create the ideal solution for RIT," says Rob Cordeiro, Sales Engineer, TSG. As a solution in the Carrier Healthy Buildings Program, OnGuard access control systems provide critical features like occupancy management, enhanced access control and proactive screening solutions to better protect people and assets as well as optimize building health and efficiency. TSG worked quickly to implement the new feature. First, cardholders need to report through the RIT MyLife portal whether they intend to take classes remotely or alternatively complete a health self-assessment survey and comply with New York state travel guidelines to gain access to buildings. The data input into MyLife is imported to the OnGuard system to determine which cardholders should have their badges blocked. Access can also be blocked if a student self-reports as COVID-19-positive or indicates they haven't received a COVID-19 test to confirm health status. TSG developed a script to automate the process of blocking person records, enabling Student Affairs to update badges in bulk rather than one-by-one. TSG added new fields to a supplemental page on the students' cardholder record which are automatically adjusted based on the results of the imported MyLife data. The OnGuard system looks for updated field data and can block the badges based on that information. All this data is stored anonymously to meet privacy and health compliance regulations.
Results
Leveraging its OnGuard access control system and the Blocked Person feature – supplemented by other initiatives such as regular COVID testing, building enhancements, updated signage and more – RIT continued school operations smoothly despite the uniquely challenging year. "Now that student badges can be updated in bulk, we save five to seven hours per week every semester, allowing us to focus on the many other responsibilities we have on a day-to-day basis," said Lezette.
RIT is looking towards future security plans that can both enhance the user experience and continue to provide a healthier campus and building experience for students and staff. The University hopes to expand its access control system to cover every entrance on campus as well as move to a fully mobile, touchless access experience using BlueDiamond™ readers and mobile credentials at residence halls and other academic buildings.
To learn more about how you can improve campus safety, contact our team today.