Elements
The Elements system is a comprehensive, intuitive, and unified cloud-based access control and video management solution built specifically for the cloud.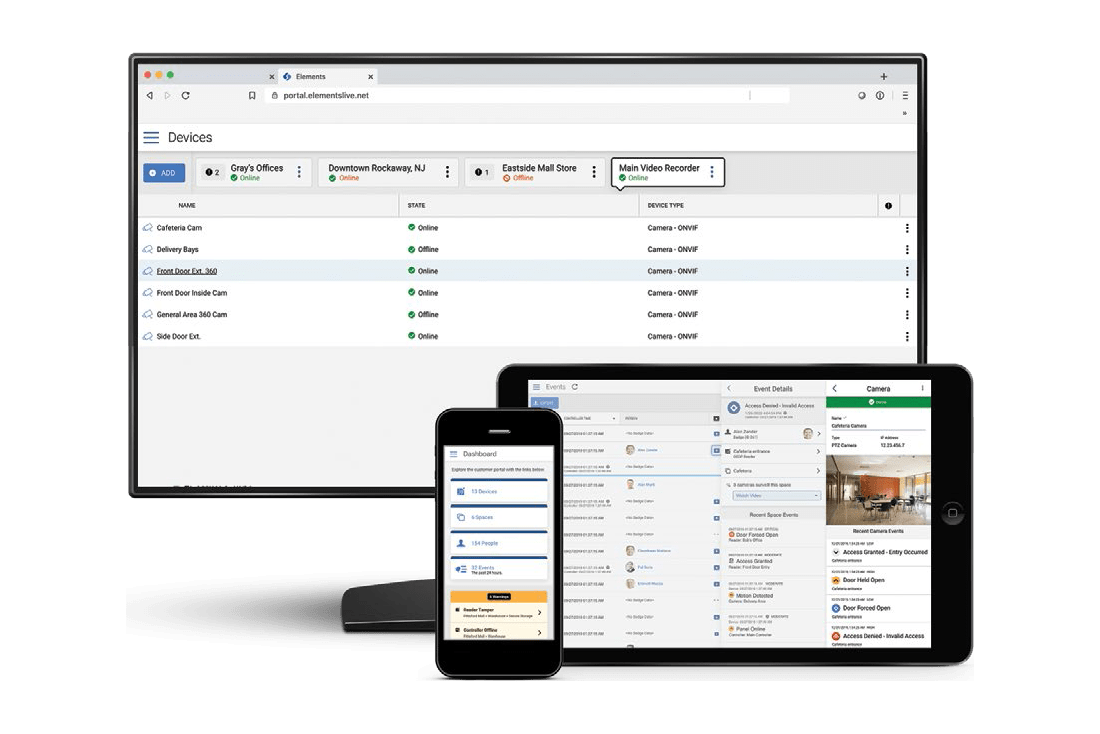 Easy. Mobile. Scalable. Unified. Cloud-based Access Control.
The Elements™ system contains all the key ingredients for an effective and scalable, cloud-based security solution, providing businesses—from small and medium-sized up to large enterprises with satellite locations—with a brand-new security option that is as simple as it is essential.

Simple, Intuitive and Effective Security
Businesses of all sizes can harness the power of the cloud to simplify their security setup, ensure predictable costs and manage their system with fewer resources all while minimizing installation time.

Mobile first and Cloud-based
Information is available at any time and easily accessible from anywhere, on any device. Take action on-the-go with the ability to remotely grant access, view video or lock doors.

Flexible and Scalable Access Control
The Elements platform can scale to power security deployments of any size. It also seamlessly integrates with the LenelS2 OnGuard® access control system for enterprise businesses.

Unified Security System
The Elements web portal enables a unified video and access control experience providing system configuration, real-time video verification of alarms and events, and viewing of recorded video in a single user interface.

Mobile Credentials
A smart alternative to plastic badges, mobile credentials enabled through the BlueDiamond™ mobile app offer convenience without compromising security. The web portal also simplifies the process for issuing mobile credentials through its intuitive design and mobile-friendly approach.

No plug-ins or extra software to install

Well-suited for deployments of any size

Designed specifically for the cloud
Frequently Asked Questions about the Elements Solution
Cloud-based access control is a technology solution that enables companies to manage their security system from a single, centralized location, thereby reducing the need for additional resources. It also enables security teams to remotely manage their physical security functions-- such as door access-- while receiving real-time video verification of alarms and events.
The LenelS2 Elements cloud-based access control system offers the following benefits:
Easily set-up and install the system
Remotely grant access, view videos or lock doors
Gain real-time insights into alarms and events
Benefit from a unified security and access control experience
There are many benefits included with cloud-based access control. Cloud-based access control systems allow actions to be performed from anywhere at any time with a stable internet connection. Cloud-based access control also cuts down on the need for hardware, taking up fewer resources and the cloud performs updates in real-time that ensure your organization has the latest software. 
Cloud-based access control systems use cloud-based servers to manage access to specific areas or buildings while securing data related to access control, video management, and alarm monitoring. Within these solutions, there is a management portal included that allows users to set up which customers are the end-user, view data on each individual customer, and set up technicians for installs. There is also a customer portal that allows end users to perform day-to-day interactions with their access control system.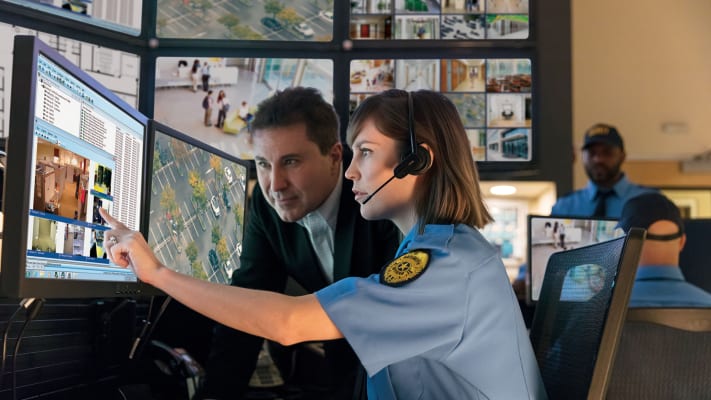 Greater Physical Security and Access Control
Learn why organizations ranging from small- to medium-sized businesses to global enterprises trust LenelS2 to solve their security challenges.