BlueDiamond
Multi-Tech Readers
Versatile, mobile-enabled access control readers
---
BlueDiamond Multi-Tech Readers
Mobilize your access control
BlueDiamond™ multi-technology readers are among the most versatile access control readers on the market, work seamlessly with existing infrastructure and leverage open credentialing standards. The readers are non-proprietary, access control platform agnostic and support the standard output protocols including Supervised F/2F (SF/2F), Wiegand, OSDP™ and OSDP V2. When utilizing LenelS2 OnGuard® and NetBox™ access control systems, administrators can conveniently manage mobile credentials through a single system.
Simultaneous support for a wide range of smart cards – including HID® iCLASS®, MIFARE® and DESFire® EV1 and EV2 – in addition to support for standard proximity cards means BlueDiamond multi-tech readers provide a seamless migration path from less secure card technologies to a more secure, open standard with DESFire EV2 and BlueDiamond mobile credentials.

Next-generation access control experience

Access control platform agnostic

Mobile-ready readers
Mobile Security User App Features & Benefits
Mobile-enabled
Supports BlueDiamond mobile credentials via Bluetooth®
125kHz Proximity Card Support
Supports HID Proximity, AWID® Proximity and CASI/GE Security ProxLite
13.56MHz Smart Card Support
Supports MIFARE DESFire EV1/EV2, MIFARE Classic (ISO 14443), Vicinity Card (ISO 15639), HID iCLASS
Seamless Upgrade
Mobile-ready readers can be upgraded with license to use mobile credentials
Cybersecure
Wiegand, SF/2F or OSDP protocols support and auto-configuring with LenelS2 access panels
OSDP File Transfer
Load firmware updates, custom keys or configuration changes with OSDP file transfer
Leading Design
Readers feature a slim profile and fingerprint-resistant black textured finish
Tamper-proof
Readers include an optical tamper switch
These products complement BlueDiamond Multi-Tech Readers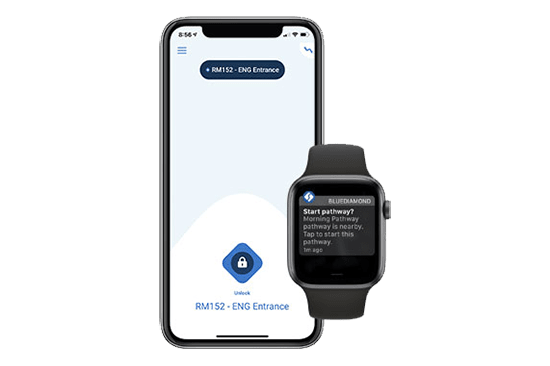 Mobile App + Credentials
The BlueDiamond mobile app provides a touchless access experience by turning smartphones into secure access control devices.
Set Up a Free Demo for Yourself in Just a Few Minutes
Learn why some of the world's most complex organizations and businesses choose our products, systems and services as their top choice for unified security solutions

Personalized needs assessment

Summary of integration and compliance issues

Calculated estimates and specifications