BlueDiamond: From Seamless Mobile Access to Supporting Healthy Buildings
The BlueDiamond™ project has always had one overriding mission: to provide an effortless, yet more secure access control experience 

By Mike Green
Mike Green is Product Manager, BlueDiamond at LenelS2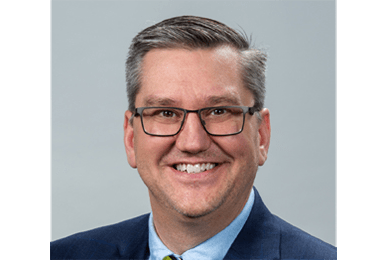 The BlueDiamond project has always had one overriding mission: to provide an effortless, yet more secure access control experience. What started as the equivalent of a hotel-style mobile key card experience where a user would unlock their phone, navigate to an app, find the specific door reader and request to open it has evolved into something that requires little to no interaction from the user to gain access. Accomplishing that while enhancing security was a challenge, but one we were excited to rise to.
In the early days of the BlueDiamond platform, the user experience was aptly described as a game of whack-a-mole. Finding the reader you wanted to access within the app was a chore and incorrect doors were sometimes accessed. So, we took a step back and redesigned it. Now, once you come into range of a reader, a notification proactively pops up on your phone or smart watch which simply needs to be tapped – and you're in.
But we didn't stop there. Because the BlueDiamond platform is both predicated and dedicated to a superior user experience, the readers, credentials and app have undergone a significant amount of beta testing in the field. Through that beta testing our users provided invaluable feedback that resulted in a variety of features that make the BlueDiamond experience what it is today. There's no replacement for real-world testing, and the BlueDiamond platform has had plenty.
Now features like Pathways deliver on our vision of truly effortless access. Users simply select doors along a commonly traveled route. With geo-fencing, the app is able to determine when you enter a determined location, wake up and start automatically opening the doors on your route as you approach them.
Of course, there's more too. Many customers wanted a badge-like experience, so we introduced the Phone-as-a-Badge feature, enabling users to hold their phone up to readers to gain access like they would with a badge. Registration distances can be extended to a few feet which allows users to keep their phone in their pocket as they approach a door. And just in case you thought we didn't think of everything, there are voice commands shortcuts. Feel free to ask Siri to open a door and she'll comply.
Although the BlueDiamond platform wasn't designed with a pandemic in mind, how it's risen to the occasion has been nothing short of serendipitous. While the product was designed to create an effortless access experience, it's easily taken on the role of a touchless access experience. Now BlueDiamond touchless access is an important part of LenelS2 offerings that are part of the Carrier Healthy Buildings Program. Its ability to enable people to move about a building while minimizing access touch points couldn't dovetail better with what users are looking for in today's environment as they return to work.
Other features will only increase the BlueDiamond platform's ability to answer the pandemic call. For instance, certain BlueDiamond readers have keypads for added security. Traditionally this requires users to present their badge (mobile or otherwise) and then physically enter a pin on the keypad. In an upcoming release, BlueDiamond readers will gain the ability to use your mobile device for two-factor authentication. Rather than requiring you to touch the keypad to confirm your identity, BlueDiamond readers will use the facial recognition or passcode on your phone as the second authentication factor.
The BlueDiamond team is 100% behind the vision of delivering effortless, and now touchless, access. Whether you're just starting your migration to more secure smart cards or are ready to embrace a mobile-first access experience, the BlueDiamond platform is an ideal solution.