LenelS2 Introduces OnGuard Security Management System Version 8.1
Latest release enhances and unifies user experience, facilitates users' cloud journeys, and deepens analytics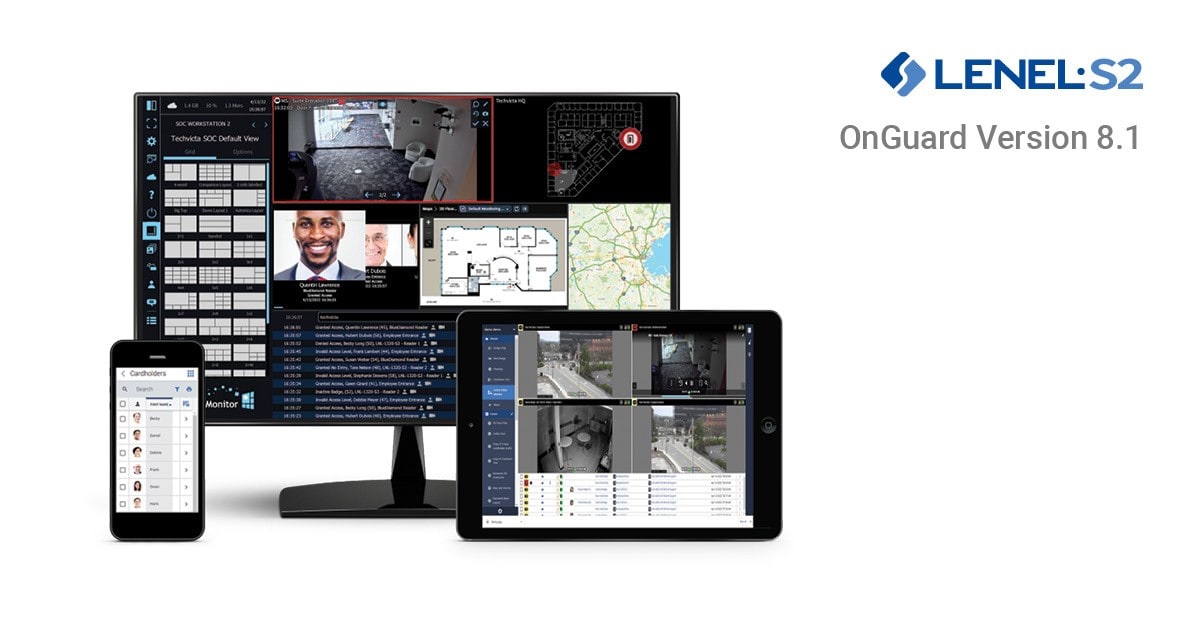 PITTSFORD, N.Y -
LenelS2 today announced the release of the OnGuard® security management system version 8.1, empowering security teams with several major user interface enhancements, more unified security management, cloud- enabling features and access to deeper analytics that help facilitate intelligent decision-making. Version 8.1 provides major updates including more fully featured browser clients, modernized desktop clients, deeper integration with the Magic Monitor® unified client and Milestone video management systems, support for scripted cloud deployments and more. The OnGuard security management system is an advanced solution in Carrier's Healthy Buildings Program, and provides critical features like occupancy management, enhanced access control and proactive screening solutions to better protect people and assets, and optimize building health and efficiency. LenelS2, a leader in advanced security systems and services, is a part of Carrier Global Corporation (NYSE: CARR), the leading global provider of healthy, safe, sustainable and intelligent building and cold chain solutions. 
"OnGuard Version 8.1 provides end users with the best OnGuard system experience to date and adds a variety of key features, enhanced integrations, and deeper analytics capabilities to provide security operators with the confidence and information they need to make proactive, rapid and informed decisions," said Jeff Stanek, President, LenelS2. "With this latest update, we've also continued to lay the groundwork for our customer's cloud-based future. As more organizations move their infrastructure to the cloud, it's critical that our solutions meet them there."  
The OnGuard 8.1 system provides usability enhancements and enterprise-focused features to many of the most used browser clients such as OnGuard Credentials and OnGuard Visitor. The latest update also includes a user interface overhaul to commonly used OnGuard Windows® clients for a more modern experience which also brings support for a dark mode which helps reduce eye strain and enhance energy efficiency.  
To provide optimal situational awareness for security operators, Version 8.1 enhances the integration between Magic Monitor and OnGuard as well as for Milestone video management systems. Magic Monitor for OnGuard now provides the ability to view instantaneous incident-related video which enables a more rapid response. The OnGuard to Milestone XProtect integration has been enhanced to provide higher levels of performance and function. The Magic Monitor and OnGuard Monitor clients can now respond to the full breadth of Milestone event types including analytics-based events such as exceeding occupancy limits or queue length as well as analytics from partner systems such as Bosch cameras or the BriefCam video analytics platform. Additionally, OnGuard Alarm Monitor can now directly launch the XProtect Smart Client to access the full array of XProtect video capabilities.   
The OnGuard system Version 8.1 is also designed to facilitate users' cloud journeys by adding new functionality for automated cloud deployment and remote system maintenance.  
Several new features are available to deepen analysis of OnGuard ecosystem data. A big data connector exports key real-time data to Security Information Event Managers (SIEMs) such as Splunk and Sentinel for organizations with combined physical and IT security threat detection teams and tools. OnGuard Reports continues to build-out the new browser-based reporting engine introduced in Version 8.0 by delivering benefits to OnGuard Enterprise customers, adding many new standard reports, and exporting to third-party BI tools. Third, more granular pre/post user transaction event auditing is available natively in OnGuard without having to separately purchase add-on enhanced auditing packages.
About LenelS2
LenelS2 is a global leader in advanced physical security solutions, including access control, video surveillance and mobile credentialing. Our technology includes web-based and mobile applications enhanced by cloud-based services. Incorporating open architecture, LenelS2 provides scalable, unified security management solutions to customers ranging from global enterprises to small- and mid-size businesses. Easy to install and use, LenelS2 products are supported by an experienced, responsive team dedicated to providing exceptional service. LenelS2 serves segments worldwide including corporate, education, healthcare and government. LenelS2 is a part of Carrier Global Corporation, a leading global provider of healthy, safe and sustainable building and cold chain solutions. For more information, visit LenelS2.com or follow LenelS2 on LinkedIn and Twitter.