OnGuard Version 7.6
Evolving to meet your ever-changing needs
---
OnGuard Version 7.6
A more scalable, accessible and cloud-compatible enterprise security platform
Extensive enhancements to OnGuard® version 7.6 create a more scalable, accessible and cloud-compatible enterprise security platform. Version 7.6 also enriches essential operations, including IT compliance, cybersecurity, reader and card technology, and browser client usability.

Browser-based video viewing

Supports new deployment options with OnGuard Cloud Edition

Enhanced cybersecurity
Mobile Security User App Features & Benefits
New and Improved Ways to Use the OnGuard System
Expanded Cloud Options Further Ease Deployment
Adds Cloud PaaS support for Amazon AWS in addition to Microsoft Azure, while OnGuard Cloud Edition leverages AWS AMIs (Amazon Machine Images) to provide a pre-packaged instance of OnGuard, easing deployment and providing access to scalable computing resources within this cloud IaaS model
Improved Browser-based Video Viewing Experience
Video playback usability updates in OnGuard Surveillance and Monitor clients include one-click full screen viewing, PTZ enhanced controls and preset
Bosch Intrusion Support
Support for the latest Bosch Intrusion control panels and improved alarm mapping
Improved Browser-based Video Viewing Experience
OnGuard Surveillance Usability
Usability updates for OnGuard Surveillance and Monitor including full screen video
PDF417 Support
Support for PDF417 barcode format in OnGuard Visitor and Visitor Self Service
Scheduled Visits Updates
Scheduled visits can be filtered by sign-in location
Apple Wallet™ for Visitors
Visitor invitation emails can be added to an Apple Wallet
Visitor Check-in Updates
OnGuard Visitor Self Service can now leverage the front or rear iPad camera
Host/Escort Updates
Now supports "Granted-Escort Pending" and "Granted Access-Valid" transactions
LNL-1324e I/O Module for Native Network
Allows doors or auxiliary I/O to be connected to an OnGuard system with Ethernet cabling
LenelS2 X-Series Intelligent System Controllers Support
Supports TLS 1.2 encryption, OSDP file transfer and onboard USB port for configuration
These products complement OnGuard Version 7.6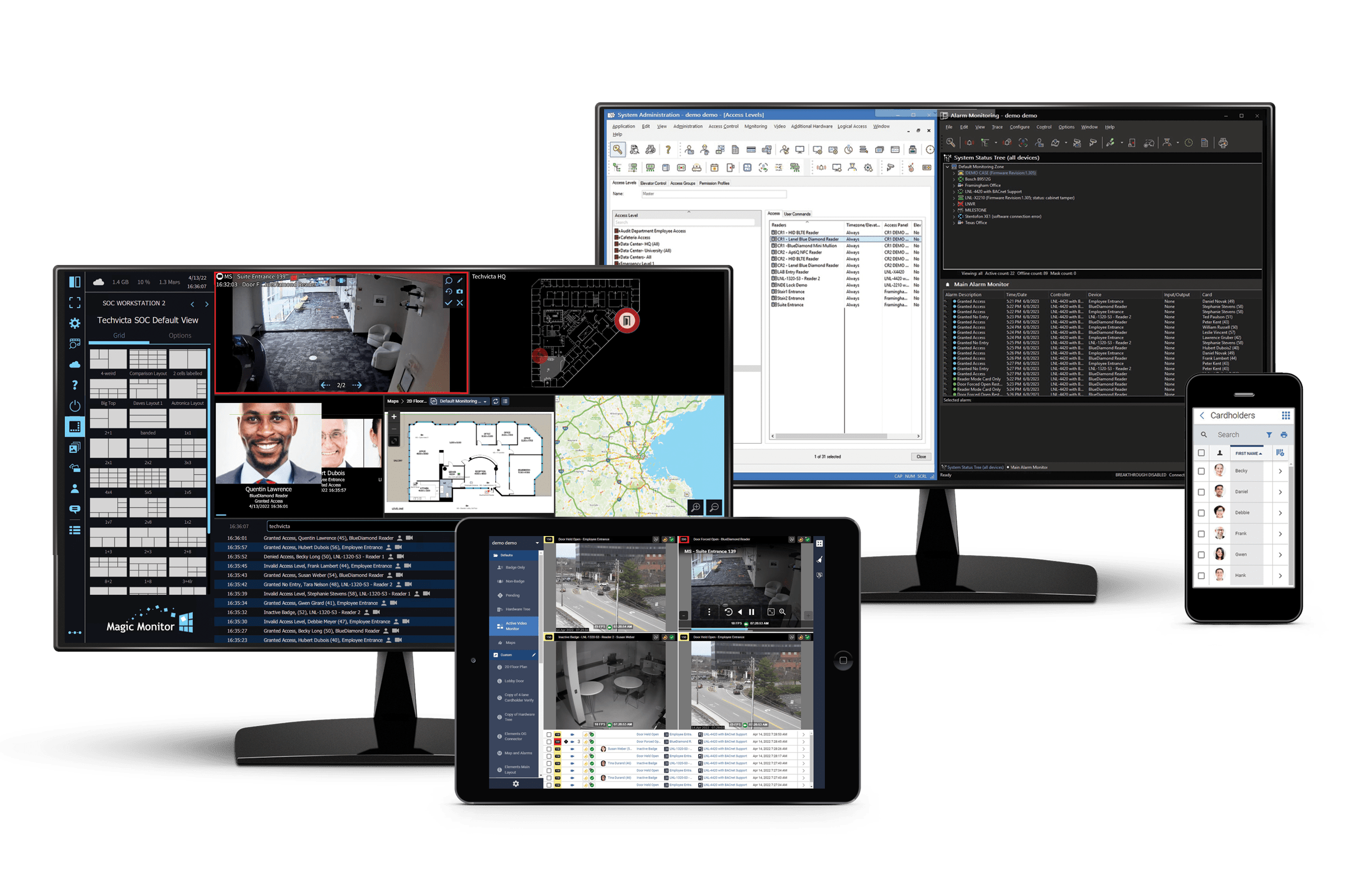 OnGuard Version 8.2
OnGuard Version 8.2 unifies user experience, facilitates users' cloud journeys, and deepens analytics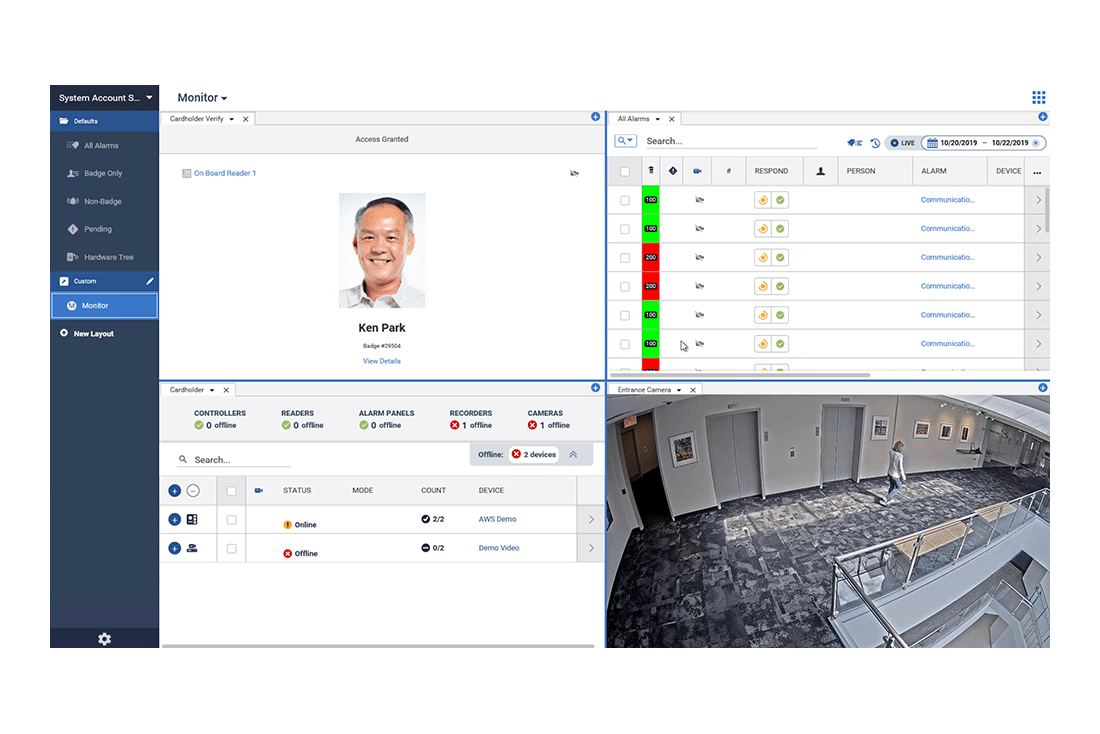 OnGuard Cloud Edition
OnGuard Cloud Edition, an Infrastructure-as-a-Service deployment model, is an alternative OnGuard package accessed and deployed from the cloud via the Amazon Web Services™ EC2 platform.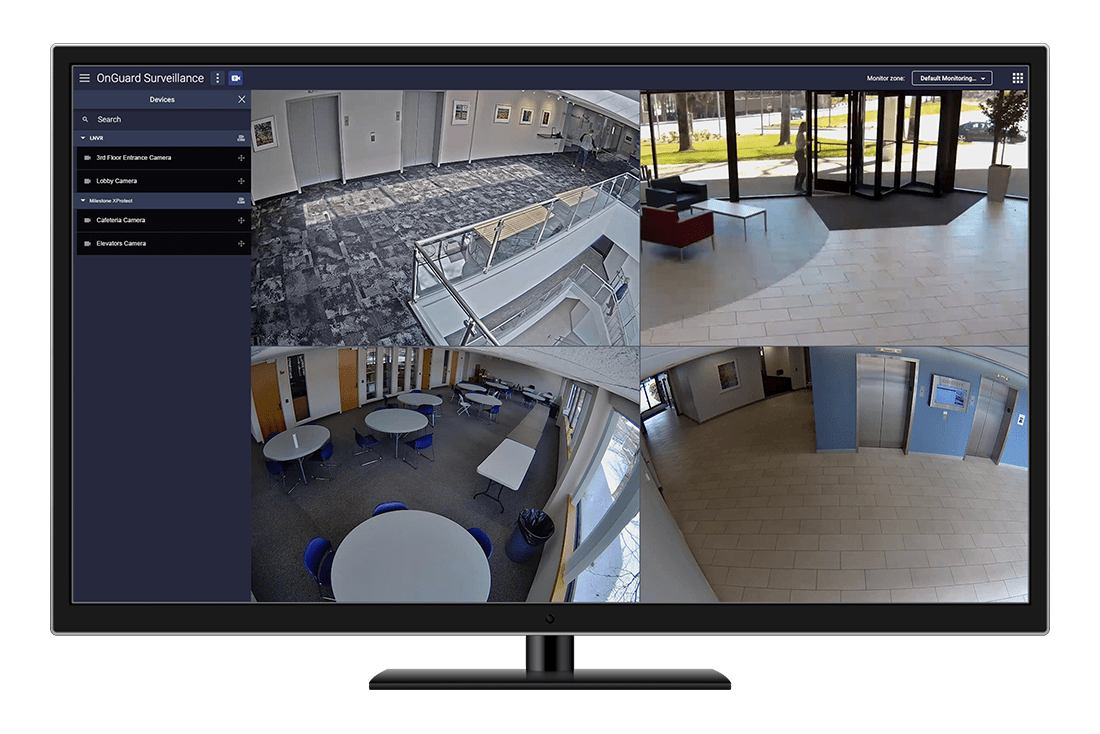 OnGuard Surveillance
The OnGuard Surveillance web client offers a lightweight browser-based application enabling basic video viewing capabilities without client installation or upgrades.
Set Up a Free Demo for Yourself in Just a Few Minutes
Learn why some of the world's most complex organizations and businesses choose our products, systems and services as their top choice for unified security solutions

Personalized needs assessment

Summary of integration and compliance issues

Calculated estimates and specifications